Charity Fundraising Day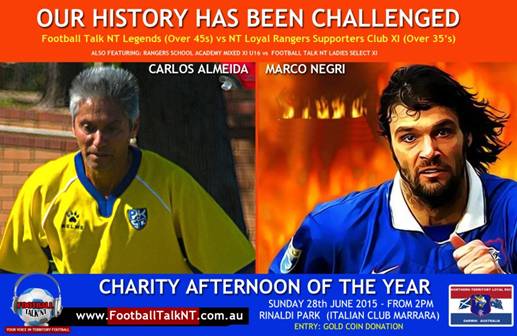 On 28 June 2015, Football Talk NT partnered with the NT Loyal Rangers Supporters Club for an epic game to raise funds to support Fernando Ricksen, a former Rangers captain who was diagnosed with Motor Neurone Disease at the young age of 37.
The NT Loyal Rangers Supporters challenged the retired over 45 Northern Territory players of the 80s, 90s and 2000s to a game against their over 35's team.
The event featured the following two exciting games:
Football Talk NT Women Invitational vs Rangers School Mixed Select (Under 16's)
The Football Talk NT Legends (over 45's) vs NT Loyal Rangers Supporters (over 35's)
It was a fun filled day featuring the battle of the strikers between former Rangers and Italian SerieA player Marco Negri and Football Talk NT's Carlos Almeida (ex - Darwin Olympic, Hellenic and Casuarina Star of the 80s).
The Football Talk NT Legends were players over 45 years who used to play in the Territory in the 80s, 90s, and 2000s who donned their boots and the Football Talk NT kit for a great cause. Some of these players had not played for over 10 years, making for a great game for these players and the fans that came to the Italian Club to watch the games. The NT Loyal Rangers Supporters over 35's team were given a good run by the Football Talk NT Legends.
Presentations followed the games at the Italian Club, culminating in a big pizza night for everyone that attended.
Games on the Day
WHAT'S ON - GAME DAY INFORMATION
---
Date:
Sunday 28th June 2015
Location:
Rinaldi Park Marrara (Italian Club Darwin)
2:00
PM

Football Talk NT Ladies XI

----- vs -----

Rangers Soccer School Mixed Under 16's
4:00
PM

Darwin

Districts Pipe Band
4:10
PM

Teams Introduction

Presentation
4:15
PM

Football Talk NT Men Over 45's Legends

----- vs -----

NT Loyal Rangers Supporters
Through The Day
Through the day: Jumping Castles / Canteen / Bar Service at the Club
After the game: 6:30pm - Pizza Night at the Italian Club all you can eat for only $10
Gallery
Join our Facebook Group for more photos and videos
Sponsors